Scenar - What the Papers Say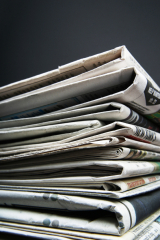 " For one of the most injury prone players in the sport (Dan Luger) ... (the Scenar) provides some insurance against further damage... 'I've used (Scenar) for problems with my neck and groin and there's no doubt it speeds up recovery.' " England rugby international Dan Luger in The Daily Mail, October 2003
"
I am no medical man, so I cannot say for sure how much I owe to the machine (Scenar). But put it this way, the day before I started using it, I did a 20-minute run on the treadmill and really struggled on level eight. After three days of treatment, I did the same run on level 15 and didn't feel it at all."
England rugby international Mike Catt in the Mirror.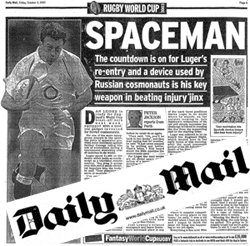 " Scenar therapy is a breakthrough treatment that really works. "
Ray Klerck, Fitness Editor,
Men's Health Magazine
" A Russian invention to keep astronauts in peak condition could be the latest and most revolutionary weapon of the alternative health industry. " Daily Mail, November 1999
" Teaching the body to heal itself naturally. " The Times, October 2000
" Widespread use of this device [Scenar] could save the NHS billions of pounds. " Surgeon Dr. James Colthurst in The Times, 1999
" Scars remain when the body has not completed its healing process. A device called Scenar... is undergoing trials in this country, but in Russia, where it has been much used, it has been shown to encourage healing. The machine is held close to the part of the body that needs healing and emits electronic impulses that stimulate the brain to complete the healing process. " The Guardian, February 2003
" Australian-born Olympic hopeful Theodora Spathis is resorting to space-age technology. Atter injuring her achilles tendon last May, Spathis has been undergoing Scenar treatment (developed for cosmonauts in the Soviet era), which releases small electrical impulses into the muscles to cause the brain to release natural healing compounds. " The Guardian, February 2012
" Olympic hopeful Emma Nedov; a teenage gymnast from Sydney who is the reigning Commonwealth World Junior Champion on the beam apparatus has been using RITM SCENAR® since she was 10 years old and credits the device for enabling her to recover from her frequent injuries and get back to training in the shortest possible time. Together with Jo Brigden Jones, who has qualified for the London Olympics in the Sprint Kayaking event, they are using RITM SCENAR® as a vital element in their Olympic preparation. " PRWeb, February 2012
" Personal trainer Theodora Spathis is going for gold - thanks to Soviet space age technology. The Sheffield-based hepathlete aims to represent the country of her birth at the London Olympics this year. An Achilles tendon injury threatened to dash the Australian's chances of competing. Then she discovered Scenar therapy - developed by the Soviets to treat cosmonauts who were not allowed to use pharmaceutical drugs while on space missions. Now Theodora is back up and running and jumping and throwing her way towards her Olympic dream. The Scenar is a battery-powered, handheld device, which is brushed over an area of inflammation or pain, releasing gentle electrical impulses, similar to those produced by the nervous system. These are sent to the brain, stimulating the release of powerful, natural healing compounds.Theodora, from Carter Knowle, who works at the Virgin gym in Heeley, is being treated by Alla Cranham, who runs In Vivo Health and Beauty in Nottingham. She says the results have been dramatic, with an immediate and long-lasting reduction in pain. Theodora, aged 28, said: "Scenar therapy has played a massive part in my recovery, without a doubt. I would not have recovered in time without it. It has made all the difference. I had an Achilles tendon injury in May last year, tried a few remedies, acupuncture, physio, herbal but nothing worked - this has." Theodora is hoping to build up enough points by the end of June to qualify for a place in the Australian Olympic squad. Then she will be taking on the world's best, including Sheffield's gold medal hope Jessica Ennis. Theodora said: "I'm confident of making the squad. I'm not up to Jessica's standards yet, but I'm getting better." The Star, Sheffield, February 2012
" It looks like a TV remote control, but a new device is offering people in Sussex the chance to try out an alternative treatment for their health problems. The inventors of the Self-Controlled Neuro Adaptive Regulation (Scenar) originally created it to treat Russian astronauts in space. Scientists were asked to devise a way of treating health problems during space flights because, with urine being recycled as drinking water, taking drugs was out of the question. The machine is believed to be able to heal health complaints through electrical current stimulation which encourages the body to heal itself. It is pressed on to the skin where the pain is, and emits a low electrical current. This triggers the body's natural and potent healing powers by creating a link between the brain and the part of the body that needs healing. The brain is kick-started into releasing self-healing chemicals such as serotonin that speed up and enhance the rate of recovery of the illness or injury. The Argus newspaper (Sussex), November 30, 2002
" It's only a little black box, but it may turn out to be a medical miracle. It looks like something out of Star Trek, and indeed, the latest weapon in the war to keep us healthy was developed by Russian scientists to ensure that cosmonauts stayed fighting fit as they floated in the stratosphere. A little black box of tricks that looks exactly like a TV remote control: run it over the body, and the device's electrical currents are said to stimulate the body to repair itself. It sounds too good to be true. Yet in Russia the Scenar (Self-controlled Energo Neuro Adaptive Regulation) won its inventors the prestigious Order of Lenin - the equivalent of the Nobel Prize... James Colthurst, a surgeon and qualified homeopath who was also the late Princess Diana's confidant and allegedly the go-between for her and the author Andrew Morton, was among the first to use the invention in this country. Its approval by the medical authorities here, however, is as a pain agent - and this is the only official medical claim that is being made for it. " The Scotsman, January 26, 2000
" A breakthrough in non-invasive treatment." Kindred Spirit magazine, December 2000
" Star Trek medicine is here. " Positive Health magazine, September 1999
" Sorrel Warwick, a 56-year old BHSAI and accredited eventing trainer, admits to being impressed by the speed at which Scenar therapy helped one of her charges to recover from a potentially serious leg problem. Top National Hunt racehorse Avanti Express had pulled a superficial flexor tendon and the thoroughbred's owner agreed to Sorrel's suggestion that Roger (Meacock, a vet using Scenar) be called in. He arrived, along with another vet, on the day the injury was detected. Over a period of about three months, Roger treated Avanti Express twice a week for the first two weeks, followed by once a week, then once a fortnight and finally once a month," esplains Sorrel, who runs Wiltshire-based Cholderton Equestrian Centre. "I expected the injury to have left a thicker tendon, but now you really have to look hard to see any evidence of it. The horse came back to win two races. I had used Scenar therapy with other horses and found the device helpful in speeding up recovery. I thought that it would trigger Avanti Express's body into instigating its own healing process, which is what seems to have happened." Sorrel, who also found the treatment beneficial in easing an arthritic wrist, says that she is a great supporter of alternative therapies like Scenar, although she firmly believes in combining a particular horse and problem with the right treatment. "Scenar therapy has a serious place when it comes to sports horses," she adds. "Especially due to the need for non-invasive treatments in order to comply with Jockey Club rules. "
Horse magazine, December 2003
" If you suffer from chronic pain, or often find yourself reaching for analgesics, ENAR (a model of Scenar) may offer a better solution... a hand-held electronic device that communicates with your body's nervous system to help promote healing as well as reduce pain. This non-invasive, non-toxic and energy-efficient form of therapy has been used to treat a range of health problems, including tendonitis, back pain, ulcers, burns, allergies and even musculoskeletal injuries. "
Better Homes and Gardens magazine, May 2007
" You may never have thought it would take a team of Russian scientists to relieve your aches and pains, but that's exactly the kind of know-how the ENAR (a type of Scenar) therapy system is built on. The hand-held device combines Western electrical biofeedback with Eastern energy medicine to treat a diverse range of disorders. Also very effective against stress and muscle tension, (Scenar) is often described as 'acupuncture without the needles' and communicates with the body's nervous system through an electrical pulse that clears and regulates neuro-energy pathways. " Virgin (Airways) Blue magazine
Positive Health magazine
on the same English vet, Roger Meacock:
Positive Health magazine on Scenar treatment in stroke rehabilitation:
http://www.positivehealth.com/article-abstract.php?articleid=1429
Space age treatment is making a world of difference
ARTHRITIS and asthma sufferers in the Capital are being offered a new treatment first used on Russian cosmonauts in the 1970s.
The Scenar technique, developed to provide healthcare for the Russian space programme, uses electrical signals to stimulate the immune system.
Nur Mohammed, who works from an alternative therapy centre in Edinburgh, is one of only two practitioners in Scotland who can use the equipment.
The technology for Scenar was developed by a team of Russian doctors and scientists who were looking for a method of treatment that was portable, energy efficient and non-invasive and which would avoid them having to take drugs and equipment into space.
The solution they came up with is a device which is about the same size as a TV remote control and is hooked to a patient's body using an electrode.
Scenar, which stands for Self Controlled Energo Neuro Adaptive Regulator, stimulates the body's own immune system, encouraging it to heal itself.
It emits an electrical impulse which is similar to a human neural impulse and stimulates the body's neural fibres. The Scenar finds damaged cells and sends an "impulse" to the brain, which responds by attempting to harmonise the frequency omitted by the damaged cell.
It also causes the body to release serotonin and opiates, which are the body's natural pain killers.
The device has been used to treat a number of different illnesses, from Alzheimers and arthritis to eye diseases, skin conditions and dental ailments.
Mr Mohammed has treated around 120 people with the device and charges around 30 a session at the AJP clinic in Lyne Street, Abbeyhill.
He said: "The skin is like a computer screen which displays information on bioelectrical activity. The electrode is placed on the skin and connected to the body through the electrical sockets placed on the skin. It starts to read what's happening inside the body and looks for information about problems. It could be a damaged knee or an asthmatic chest. It reprogrammes that information. If people are using drugs to help their condition, dosage can be reduced. The treatment is very effective and very fast."
One patient who has benefited from the treatment is Rob Phelan, who developed chronic asthma about four years ago.
He went from being healthy and active to being completely dependent on steroids and suffered frequent asthma attacks.
He had to use different inhalers four or five times a day and often had sleepless nights because of the asthma attacks.
But after a series of sessions using Scenar, he has almost totally given up his inhaler and is able to lead a normal life again.
Mr Phelan, 36, who lives in Liberton, said: "There was very little result from using the steroids. I had tried out all sorts of herbal remedies, but nothing worked. I was very sceptical about trying Scenar, but I had about ten sessions initially and by the third one it was obvious that it was cutting down my inhaler use. Now I hardly have to use it at all.
"If I go out, I don't have to worry about where my inhalers are - I don't even have to carry them around with me. I was shocked to find that something so simple could work. It's incredible."
The method has been widely adopted in Russia, where 600 practitioners have used the treatment on 50,000 patients.
It is only now beginning to filter through to the UK, where there are 60 practitioners.
Well Being magazine - GP Dr. Virginia Reid discusses Scenar in a wider energy medicine framework:
http://www.scenartherapies.com/media/SCENAR_article_lores.pdf
" Eastern Medicine Meets Western Technology. It was dubbed "the Star Trek Device" by the European press, after the all-curing, energetic medical device used on that popular science fiction series. Cures have been claimed from it for all types of disorders - circulatory, respiratory, neurological, genito-urinary, musculoskeletal, gastrointestinal, endocrine, immune, psychological...
Ironically, the Scenar was never used in space, but its technology is helping to solve the health-care crisis in Russia, and it could also help solve the health-care crisis in the West. The device works on diseases and dysfunctions of every kind by acting systemically on the energy field of the body... Results reported.. have been remarkable. There seem to be very few ailments that it cannot alleviate or cure. To date, over 50,000 cases have been reported involving the device... A large body of information available from research papers, clinical reports and training manuals indicates that, overall, the Scenar is effective in about 80% of cases (where "effectiveness" is defined as a cure in two-thirds of cases and significant improvement in the remainder)...
The scenar heals by using neuropeptides, the internal pharmacy of chemicals by which the body is kept in physiological balance. Without regulatory peptides being produced by the nerves, the body can adapt to disease states, which may be caused by injury, injection or toxicity. The Scenar stimulates the nervous system to produce its regulatory peptides, thereby prompting the body to heal itself... Because these peptides last for up to several hours, the healing process continues long after the treatment is over.
The healing process is ongoing for another reason. Disease occurs where portions of the body have been blocked from communication with the energetic system that keeps it in balance. The Scenar begins a dialogue with these blocked areas. Once the lines of communication have been re-established, the information-starved areas keep on talking. They want to stretch and move and come back to life. Healing is reported not only in the nervous system, but in conjunction with other chemical imbalances, correcting sleeplessness, appetite, behavioural problems, learning ability, memory, sexual function, and overall physical health.
Arguably, these results could be ascribed to the placebo effect, but British veterinarian, Roger Meacock has achieved results in animals. He has successfully treated horses, pigs, cattle, sheep, dogs and cats with the Scenar, and has found it to be the best available treatment, particularly for musculoskeletal injuries in horses as it gives rapid, profound healing to tendon and ligament injuries. As for the principles behind Scenar treatment, Dr. Meacock explains that the body has a finite amount of energy that must be divided among multiple functions. Its essential survival functions are energy replacement (feeding), reproduction and the fight-or-flight response. Injuries need to be repaired, but only sufficiently for the organism to maintain its survival functions. When repair reaches that level, the stressed organism with insufficient energy for its needs abandons the healing process and returns to eating, reproducing and fleeing enemies. The Scenar works on an information level to remind the body that it still has repair work to do...
No unwanted side effects have been demonstrated from (the Scenar) in over 20 years of use in Russia and Europe. The impulses sent by the device are similar to the body's own nerve impulses and are quite safe, even for children and pregnant women... Russian research indicates that for long-lasting effectiveness, chronic problems may need treatment three or four times a week for up to six weeks. Acute problems, however, often resolve after only one or two treatments. Fresh injuries or acute inflammatory processes may require intensive treatment once or twice daily for several weeks. They should reduce gradually as the condition improves. " Natural Health and Vegetarian Life magazine, Winter 2007